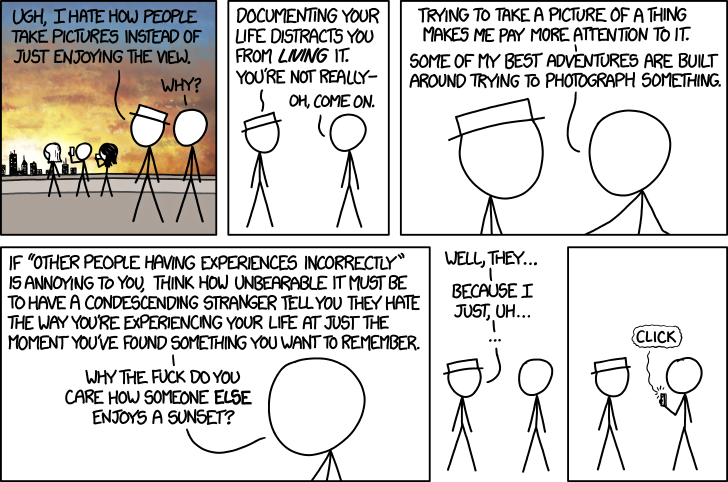 I came across this comic on xkcd the other day. It resonated with me deeply , as a lot of my greatest and dearest experiences have been had because of photography.
I understand the feeling of emptiness you can have as you watch someone goad their kids into posing for a photo at a beautiful location, but seeing no warmth or presence in their actions. Simply a check off on a list of to-dos. This sucks. I get it. But slowly and surely the human race will figure out their relationship with technology and the world around them.
BUT fuck you for telling me to not take a photo.
Don't you see my mouth agape at what I'm framing with my camera lens/iPhone? Don't you think I am deeply experiencing it, all the awe, beauty, and wonder of it?
My camera took me to this rope cart over a river in Santa Teresa, Peru.
My camera took me to a crane booth high above the Cayman Islands' Pirate's Week Pirate's Landing Re-Enactment.
To a small town in Peru, volunteering my photography for a non-profit that connected local weavers to international markets.
To the hilly streets of San Francisco, where pro skaters pushed themselves to land tricks.
Fuck you, I'll take my photo.